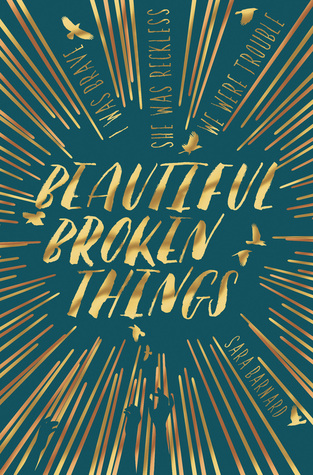 Title: Beautiful Broken Things
Author: Sara Barnard
Blurb:
Best friends Caddy and Rosie are inseparable. Their differences have brought them closer, but as she turns sixteen Caddy begins to wish she could be a bit more like Rosie – confident, funny and interesting. Then Suzanne comes into their lives: beautiful, damaged, exciting and mysterious, and things get a whole lot more complicated. As Suzanne's past is revealed and her present begins to unravel, Caddy begins to see how much fun a little trouble can be. But the course of both friendship and recovery is rougher than either girl realises, and Caddy is about to learn that downward spirals have a momentum of their own.
(Taken from Goodreads)
The book follows 3 girls through their friendship together. Before it had always been Caddy and Rosie but then Suzanne comes along and changes the dynamics of the friendship. Suzanne is a 'troubled' teenager who has had to go and start a new life with her aunt. There she becomes friends with the 2 girls, initially she is just Caddy's friend of a friend however, they become a lot closer.
Suzanne almost seems to have this power over Caddy and makes her step out of her comfort zone and do things that are not normally what she would do; she begins to go to parties, to go on adventures and even to sneak out. This unlikely friendship causes friction between both Caddy's best friend and her parents – they believe that Suzanne is a bad influence on Caddy, though that does not stop her from following her lead.
The friendship culminates in an incident which, if I'm honest, I was not expecting would happen until they reach where they're going (apologies that doesn't make much sense, but if you read the book you will understand what I mean).
The book basically explores how far people will go for friendship and that sometimes there is nothing quite like the bond you have with friends.
I liked the characters and I felt sorry for Suzanne, she's had a difficult life and it did genuinely seem like she didn't want to be the way she was. Caddy, I felt, really did try to help and I did find her character endearing, relatable and likeable.
Overall, I did really enjoy the book and I liked the fact that the 'love' in the book was not between boy and girl. It made a change from the typical teen/YA novels where, generally, the plot line is centered around a girl meeting a boy. I would recommend this book if you're looking for a relatively quick summer read, although it does touch on some serious issues it is not a heavy read.